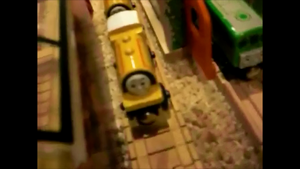 The Haunted Shed
is the fourteenth episode of the sixth season. 
Bill & Ben tell BoCo a Ghost story,and the next morning,BoCo thinks Derek spooked Bill and Ben with "The Ghost Diesel",but Spamcan and The Diesel were in the shed,and Bowler tried to cause trouble,but his plans were spoilt by The Flying Scotsman,and Meanwhile,Spamcan is stopped by Sir Topham Hatt.
Characters
Edit
Thomas (cameo)
Harvey (cameo)
Rocky (cameo)
Gordon (cameo)
Sodor Fuel Tanker (cameo)
Petrolium and Oil Car (cameo)
Oil Tanker (cameo)
Bill & Ben
Dennis (mentioned, does not speak)
Derek
Ad blocker interference detected!
Wikia is a free-to-use site that makes money from advertising. We have a modified experience for viewers using ad blockers

Wikia is not accessible if you've made further modifications. Remove the custom ad blocker rule(s) and the page will load as expected.