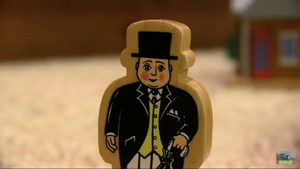 Sir Topham Hatt
is the controller of the railway. He has a jolly brother named
Sir Lowham Hatt
 and a wife named
Lady Hatt
.
Sir Topham Hatt is the controller of the whole railway, he makes sure the engines are on time.
Appearances:
Edit
Season 1: The Trouble With Trucks
Season 2:
Season 3:
Season 4: Clumsy Culdee, S.C. Ruffey and The Foolish Freight Cars, Rickety's Revenge
Season 5:
Season 6:
Season 7:
Season 8:
Season 9:
Season 10:
Season 11:
More to come soon.
Ad blocker interference detected!
Wikia is a free-to-use site that makes money from advertising. We have a modified experience for viewers using ad blockers

Wikia is not accessible if you've made further modifications. Remove the custom ad blocker rule(s) and the page will load as expected.