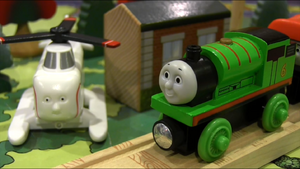 Percy
is a green saddletank engine. He is the No. 6 engine on Sir Topham Hatt's Railway and is best friends with
Thomas
and
Toby
.
Coming soon
Appearances
Edit
Season 1: Stepney's Problem, A Scottish Tale, Toby and the New Engine, Duties of the Diesels (cameo), Wilbert to the Rescue, Wilbert and Tiger Moth (cameo), Frank and the Trucks and Gordon Plays a Trick
Season 2: Daisy and the Visitor (cameo), James' Tender Trouble, A Flying Surprise (does not speak), Twin Trouble (cameo), Old Slow Coach (mentioned), The Flying Scotsman Returns, Save Sir Topham Hatt!
Season 3:
Season 5:
Season 7:
Season 8:
Season 10: Bee Yourself, James, Mike Goes on Strike, Coal Crisis (cameo), and Groundhog Gordon
Season 11: Big City Rumor, Duncan in the Dumps (cameo), Just Duck's Luck, Spencer Goes Too Far and Holly Jolly Molly
Season 12: Percy Gets a Promotion, Henry's Handcar Havoc (mentioned)
Season 13: It's Good To Be Belle (cameo), Victor's Loco Motives, Who Stole The Coal?, Ivo Hugh's Day at the Zoo (cameo), Hector and Logan's Hot Pursuit and How Gator Stole Christmas (cameo)
Season 14: Double-Decker-Wrecker (cameo), Hiro and the Heat Wave, Furious George,
Ad blocker interference detected!
Wikia is a free-to-use site that makes money from advertising. We have a modified experience for viewers using ad blockers

Wikia is not accessible if you've made further modifications. Remove the custom ad blocker rule(s) and the page will load as expected.