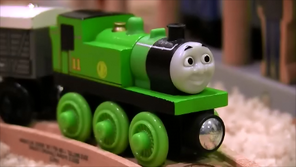 This is an article about the Great Western Engine. You maybe looking for the Excavator.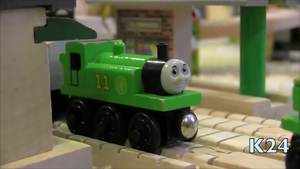 Oliver is a Great Western engine. He works on Duck's branchline and has two coaches named Isabel and Dulcie and a brake van named Toad, with whom he shares with Douglas. He prefers Bulgy as a "mean scarlet deceiver" and often is sometimes seen at the Brown Turntable. He is aggravated by S.C. Ruffey and the other troublesome trucks.
Oliver is a great western engine that works with Duck on Duck's branchline.
In the French version of Keekre24's series, Oliver is called Olivier, like the excavator.
In the Spanish version of Keekre24's series, Oliver is called Oliviero.
Appearances:
Edit
Season 1:
Season 2:
Season 3:
Season 4: Slippery Rails
Season 5:
Season 6:
Season 7: Toby's Adventure
Season 8:
Season 9: Tender Bender
Season 10: Toad the Brakevan: Missing in Action,
Season 11: The Great Western Way
Season 12: Greetings, Montague! (does not speak) and Vicarstown Takedown
Season 13: Who Stole The Coal? and Toad Gets Towed
Season 14:
Specials:
Ad blocker interference detected!
Wikia is a free-to-use site that makes money from advertising. We have a modified experience for viewers using ad blockers

Wikia is not accessible if you've made further modifications. Remove the custom ad blocker rule(s) and the page will load as expected.