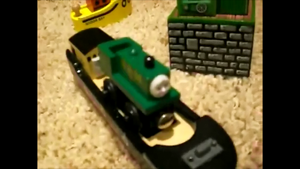 Neil's Nonsense
is the fourth episode of the seventh season. 
After working on many railways,Neil comes back to The Narrow Gauge Railway,then meets Skarloey,Rheneas,Peter Sam,and Duncan,later that day,Neil and the rest of the Narrow Gauge Engines arrive at Brendam Docks,then they see a drawbridge,first,they let Bulstrode go under it,then,however,Neil is lifted up by Cranky high in the sky,then,he meets his old friend,Skarloey!
---
Characters:
Edit
---
Ad blocker interference detected!
Wikia is a free-to-use site that makes money from advertising. We have a modified experience for viewers using ad blockers

Wikia is not accessible if you've made further modifications. Remove the custom ad blocker rule(s) and the page will load as expected.