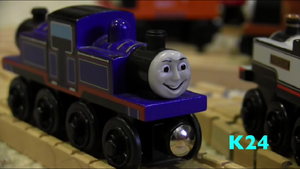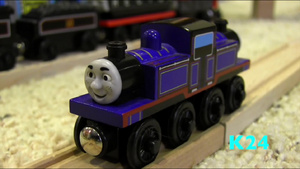 Mighty Mac
is a double-ended Fairlie Locomotive who works on the
Skarloey Railway
.
Mighty Mac is one of the unusual engines on Sir Topham Hatt's railway,he is equipped with a face at each end,one of the sides is called Mighty,as the other side is called Mac.
We first met them in "Double Trouble",and that was when they first arrived on Sodor.
They had not been appearing in Season 1 or Season 2,but they have appeared since Season 3.
Appearances
Edit
Season 3: Double Trouble,
Season 4: A Mighty Branchline,
Season 5:
Season 6:
Season 7:
Season 8:
Season 9: Special Tunnel,
Season 10:
Season 11: Wooden Brakes
Season 12:
Season 13: Duck and the Quack Attack (cameo), Victor's Loco Motives (cameo),
Specials:
Mighty: Look... Toad the Brakevan.
Mac: But Mighty... Sir Topham Hatt told us to take the Sodor Line Caboose.
-A talk between Mighty and Mac. Double Trouble,third season.
Ad blocker interference detected!
Wikia is a free-to-use site that makes money from advertising. We have a modified experience for viewers using ad blockers

Wikia is not accessible if you've made further modifications. Remove the custom ad blocker rule(s) and the page will load as expected.