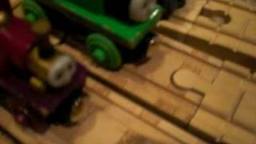 Lady is a magical engine that lives on the Magic Railroad. She had payed many visits to the Island of Sodor and wagreer visits are enjoyed by the other engines and rolling stock, Thomas in particular. She lives on the Magic Railroad and is owned by J.M. Brenner and Lady is known by Mr. Conductor and Junior; she tries escaping when Diesel 10, Splatter and Dodge go on the Magic Railroad.
In "Sodor's Last Stand" she was first seen when Thomas popped though the magic buffers after being chased by Diesel 10. She was with Toad, Oliver's breakvan, who was on the magic railroad when the coupling snapped between him and Murdochs' train. The three friends had a conversation about the diesels when Thomas realized that he and Toad had to go back to the Island of Sodor. Lady said goodbye to her friends. She was not seen again until much later when she came to Thomas' rescue when he ran out of coal and Diesel 10, their arch enemy, comes to get Thomas. The two friends raced around the Island, until they came to the viaduct. Diesel 10, Spamcan, and Bowler blocked them on the top. Lady uncoupled herself from Thomas under Diesel 10's threats, and Diesel 10 starts to close in on Thomas. However, The viaduct starts to collapse and Spamcan and Bowler back away. Soon Thomas is dangling dangerously on the viaduct. Lady comes to Thomas's rescue once again and pulls Thomas to saftey. A little while later, Sir Topham Hatt returns from his holiday and rewards Lady by allowing her to stay on the railway for a few days. Soon however, Lady has to go home. Thomas feels sad that Lady had to go and follows her to the magic buffers. The two engines say their goodbyes and Lady goes home.
Lady's prototype is unknown - she is not particually based on any engine.
Lady is a magic engine who lives on the Magic Railroad. She helped Thomas defeat Diesel 10.
Lady was seen when Thomas first arrived into the magic buffers. She was later chased by Diesel 10 and J.M. Brenner went with her away; she later went to Sodor with Thomas where her face was visible, Mr. Conductor and Junior were pleased, she later appeared in all Engines! Calling all Engines! with Rusty.
Specials
Edit
Ad blocker interference detected!
Wikia is a free-to-use site that makes money from advertising. We have a modified experience for viewers using ad blockers

Wikia is not accessible if you've made further modifications. Remove the custom ad blocker rule(s) and the page will load as expected.