"I'm a Really Splendid Engine."
— James' catchphrase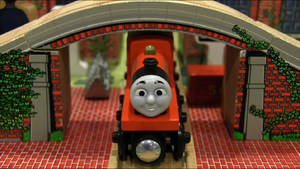 James
is a red mixed traffic tender engine. He thinks himself and the "Pride of the Line" and brags that he's splendid.
James is a mixed traffic engine,he can pull both coaches and freight cars,he is very vain and thinks he is Splendid.
Backstories
Edit
In the television series,we first saw James in Thomas & The Breakdown Train,where James fell off the rails and onto the grass.
But he was put back on track.
And now works on Sir Topham Hatt's railway.
Appearances
Edit
James is based on the rebuild of a real engine, sort of like The Red Engine, the member of James' class is perhaps the sole survivor of the class.
In the French version of Keekre24's series, James is called Jacques.
In the Spanish version of Keekre24's series, James is called Diego.
Ad blocker interference detected!
Wikia is a free-to-use site that makes money from advertising. We have a modified experience for viewers using ad blockers

Wikia is not accessible if you've made further modifications. Remove the custom ad blocker rule(s) and the page will load as expected.