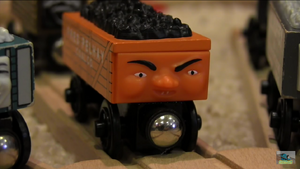 Fred Pelhay 
is an orange troublesome truck/
Fred Pelhay loves causing trouble on The Island of Sodor.
Appearances
Edit
Season 1: The Trouble With Trucks and Frank and the Trucks (does not speak)
Season 4: Rickety's Revenge, Sir Handel & The Brakevan, and S.C. Ruffey and The Foolish Freight Cars
Season 9: Scruff and S.C. Ruffey,
Season 12: Truckus Ruckus
Season 13: Who Stole The Coal? (cameo) and Hector and Logan's Hot Pursuit (cameo)
Ad blocker interference detected!
Wikia is a free-to-use site that makes money from advertising. We have a modified experience for viewers using ad blockers

Wikia is not accessible if you've made further modifications. Remove the custom ad blocker rule(s) and the page will load as expected.