"I'd say he's probably my favorite character."



— TWR talking about Edward, Thomas Wooden Railway's Massive Unboxing Video Part 1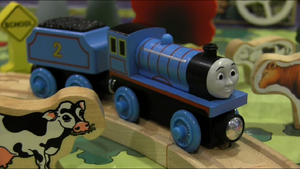 Edward
is a blue mixed-traffic engine. He is the No. 2 engine on the
North Western Railway
.
Edward is a kind,little engine that works on Sir Topham Hatt's railway.
Appearances
Edit
Season 1: A Scottish Tale, Toby and the New Engine, Duties of The Diesels (cameo), Wilbert and Tigermoth and Wilbert, Frank, and the Milk.
Season 2: Skarloey and Rheneas Depart For Crewe (cameo), A Special Visitor, James' Tender Trouble, A Flying Surprise (cameo), The Flying Scotsman Returns, Save Sir Topham Hatt, and The Flying Scotsman Departs.
Season 3: Double Trouble (cameo), Hideous Henry, George the Steamroller, Diesel's Dilemma (cameo), Rickety's Revenge, S.C. Ruffey and the Foolish Freight Cars (cameo) and Trouble on the Track
His appearance was unknown in the fourth and fifth seasons.
Season 6: An Old Friend Returns
Season 7: Helpful Edward and Stanley and the School Trip
Season 8: Tick-Tock-Jock, The New Controller, and Fire at the Sheds
Season 10: Bee Yourself, James, Edward Breaks Down, and Groundhog Gordon
Season 11: The Great Western Way (cameo), Big City Rumor, Just Duck's Luck, Hank and the Hatt St Crossing (cameo), Spencer Goes Too Far, and BoCo and the Cocoa (cameo)
Season 12: Greetings, Montague!, Scottish Blues, Truckus Ruckus, Gordon's Last Hurrah, If The Dome Fits, The Mystery Train, Sidney the Renegade and Vicarstown Takedown
Season 13: Duck and the Quack Attack (cameo), It's Good To Be Belle (mentioned), Bert's Arlesdale Fail (cameo), Rust or Bust (cameo), Who Stole The Coal?, Sam I Am (cameo), and How Gator Stole Christmas (cameo)
His appearance was unknown in the fourth, fifth, and seventh season
He will appear in the fourteenth season
Specials: Thomas and the Storm, Lady The Lost Engine, The Strange Case of Splatter and Dodge and Claw of The Law
Edward is TWR's favorite engine.
In the Spanish version of Keekre24's series, Edward is called Eduardo.
In the French version of Keekre24's series, Edward is called Edouard.
Ad blocker interference detected!
Wikia is a free-to-use site that makes money from advertising. We have a modified experience for viewers using ad blockers

Wikia is not accessible if you've made further modifications. Remove the custom ad blocker rule(s) and the page will load as expected.