This is an article about the engine. You maybe looking for the song.
"There are two ways of doing things. The Great Western Way and the Wrong Way. I'm Great Western and don't we know it!"
— Duck's catchphrase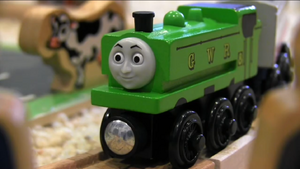 Montague
nicknamed
Duck
because of his slight waddle is a Great Western Engine. He has his own
branchline
 and two coaches named
Alice
 and
Mirabel
. He works on his branchline along with
Oliver
.
Coming soon
Appearances
Edit
Season 1: The Trouble With Trucks ​(does not speak), Stepney's Problem, A Scottish Tale (does not speak), Duties of the Diesels, Wilbert and Tiger Moth and Thomas' 4th of July (cameo)
Season 2: A Special Visitor (does not speak), Old Slow Coach, Save Sir Topham Hatt!, Thomas Helps a Friend, Murdoch's New Coach (does not speak) and Disaster on Sodor (cameo)
Season 3: Hideous Henry, George the Steamroller (does not speak), Rusty Rocks the Railway, Toby's New Cowcatchers (brief cameo), S.C. Ruffey and the Foolish Freight Cars, Trouble on the Track and Frank and Fred the Orange Coal Car (does not speak)
Season 4:
Season 5: Duck-Duck-Spooked
Season 6: Percy's World Record
Season 7:
Season 8:
Season 9:
Season 10:
Season 11:The Great Western Way, Big City Rumor and Just Duck's Luck
Season 12:Greetings, Montague!, The Mavis Matrix (mentioned) and If The Dome Fits
Season 13: Duck and the Quack Attack
Season 14:
Specials:
He has also appeared in some discussions and TWR's second Q&A video.
no. 8788, this engine is known to be real and is the sole survivor of Duck's class.
Duck is the first Great Western engine.
Ad blocker interference detected!
Wikia is a free-to-use site that makes money from advertising. We have a modified experience for viewers using ad blockers

Wikia is not accessible if you've made further modifications. Remove the custom ad blocker rule(s) and the page will load as expected.