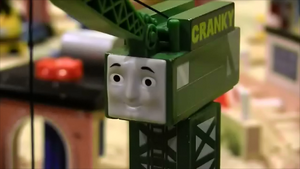 Cranky
is a grumpy tower crane.
Coming soon
The reason Cranky is so grumpy is because he is kept working day and night without rest. Cranky loves teasing the engines and has an intense dislike for Salty's stories. He rarely pays attention to tact due to his perpetual bad temper.
Cranky is a Luffing Jib tower crane.
Cranky is painted olive with black and brown pulleys amongst his mechanism and two work plates on each side that read "CRANKY".
Appearances
Edit
Specials:
Ad blocker interference detected!
Wikia is a free-to-use site that makes money from advertising. We have a modified experience for viewers using ad blockers

Wikia is not accessible if you've made further modifications. Remove the custom ad blocker rule(s) and the page will load as expected.