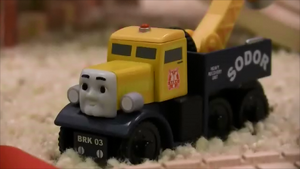 Butch
is a rescue tow-truck with a breakdown crane who works at the Search and Rescue Centere
Butch is serious about his job and loves working, especially with his railway friends. Despite his size, Butch has a kind heart and is always ready when his service is needed.
Butch is based on a Scammell Pioneer heavy recovery vehicle.
Appearances
Edit
Ad blocker interference detected!
Wikia is a free-to-use site that makes money from advertising. We have a modified experience for viewers using ad blockers

Wikia is not accessible if you've made further modifications. Remove the custom ad blocker rule(s) and the page will load as expected.